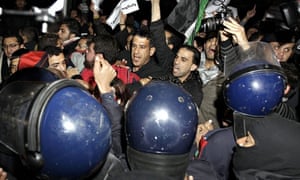 Boze inwoners van Jordanië worden door politie in bedwang gehouden bij een demonstratie waarin zij eisen dat de Israelische ambassadeur wordt uitgewezen uit Amman, nadat de Palestijns-Jordaanse rechter Raed Zuayter is doodgeschoten bij de Allenby-brug. (Fotro AFP)
Een man die met Raed Zuayter reisde, die maandagmorgen werd doodgeschoten bij de Karameh (Allenby) grensovergang met Jordanië, heeft het persbureau
Ma'an verteld
dat de rechter werd gedood omdat hij een soldaat een duw gaf. Zuayter, 38, was een Palestijn met de Jordaanse nationaliteit die sinds 2011 als rechter werkte
in Amman.
De man die met hem in dezelfde bus zat, Mohammad Zayd, vertelde Ma'an dat Zuayter, een vrouw en hijzelf, om acht uur 's ochtends laat waren met terugkeren naar de bus die hen vanaf het eerste Israelische checkpoint, waar een eerste controle plaatsvond, verder moest vervoeren. Toen zij terugkwamen duwde een soldaat Zuayter, er ontstond een soort handgemeen en de soldaat duwde Zuayter vervolgens zo hard dat hij op de grond viel. Zuayter stond daarna op en gaf de soldaat een duw, die vervolgens een schot loste dat hem net miste, aldus Zayd. Vervolgens loste de soldaat drie schoten op Zuyater die hem in de borst troffen. De rechter viel dood op de grond, zei Zayd, die nog had geprobeerd hem te reanimeren, maar zonder resultaat.
De passagiers werden daarop uit de bus gehaald en opnieuw gefouilleerd. Ongeveer een uur later arriveerde er een medische ploeg die Zuayters lichaam meenam.
De Israelische officier Yaron Beit On had maandag in een 'conference call' met verslaggevers gezegd dat Zuayter was gedood omdat hij probeerde een geweer van een soldaat af te pakken. Hij was daarop door een andere soldaat in zijn been geschoten, volgens Beit On. Daarop had Zuayter een ijzeren staaf gepakt van een andere soldaat en geprobeerd dat als wapen te gebruiken. Vervolgens was hij doodgeschoten, aldus het verhaal van Beit On.
The Times of Israel citeerde een verklaring van het leger die als volgt luidde: ''De eerste resultaten van het onderzoek geven aan dat de terrorist (= rechter Zuayter, AbuP.) de soldaat aanviel. Hij bedreigde de soldaat onder het uitroepen van 'Allah Akbar' met een metalen staaf en probeerde daarna het wapen van de soldaat af te pakken, wat de soldaten ertoe bracht te reageren door op zijn onderste ledematen te schieten, in overeenstemming met de standaard procedures. De verdachte begon daarna een soldaat te wurgen, en de militairen reageerden daarop door opnieuw op
hem te vuren."
Het parlementslid Ahmed Tibi van de Arabische partij Ram/Ta'al trok deze lezing in twijfel. Hij zei dat hij getuigenissen had gehoord dat de rechter was doodgeschoten na een ruzie met een soldaat. Hij riep het leger op opnames van de veiligheidscamera's vrij te geven.
Israel probeert intussen de spanning met Jordanië die is gerezen na het doen van de rechter te verminderen, meldt de Times, die de Israelische radio aanhaalt. De Jordaanse minister van Buitenlandse Zaken, Judeh, heeft maandag de Israelische zaakgelastigde op het matje geroepen om te protesteren tegen de dood van Zuayter en om een onmiddellijk onderzoek gevraagd. Voor de Israelische ambassade in Amman was maandagavond een demonstratie. De vakbond van advocaten in Amman nam een scherpe verklaring aan. Ook de Palestijnse Autoriteit heeft het doodschieten van de rechter veroordeeld.