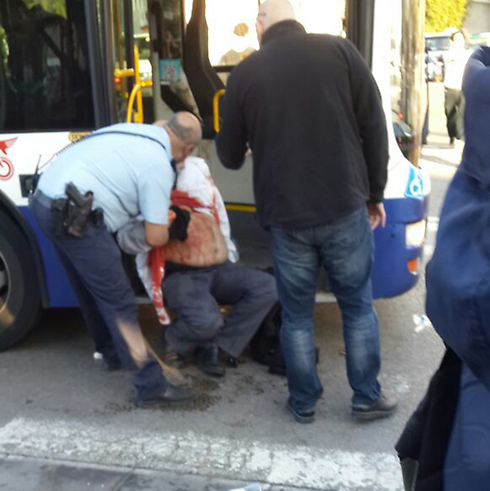 Politie praat met de gewonde buschauffeur. Hij werd als eerste neergestoken. (Foto YNet)
Upated met reactie van Hamas.
Een Palestijnse man heeft woensdagmorgen in een bus in Tel Aviv zijn medepassagiers aangevallen met een mes. Daarbij zijn 13 mensen gewond geraakt, volgens de Israelische
site YNnet.
De dader was de 23-jarige Palestijn Hamza Muhammad Hasan Matrouk uit het vluhctelingenkamp bij Tulkarem op de Westoever. Hij was volgens de politie illegaal in Israel. Gevangenbewakers die toevallig in een auto achter de bus reden schoten hem in een been toen hij vluchtte en hielden hem aan. Vrienden van Matrouk in het Tulkarem-kamp vertelden
Ma'an News
dat hij niet tot een politieke beweging behoorde.
Volgens YNet zijn vier van de gewonden ernstig gewond, en zijn van drie anderen de verwondingen matig ernstig. De rest zou behandeld worden voor een shock. De aanval vond plaats in buslijn 40 op de Menachem Beginweg, een doorgaande weg in Tel Aviv.
Hamas prees de aanval in de bus. Ezzet Resheq, een lid van het politbureau van Hamas, prees vanuit Doha de aanval als een "heroïsche" daad en een vanzelfsprekend antwoord op Israels staatsterrorisme. Rezzeq schreef op zijn Facebook pagina: "De aanval is het antwoord dat verwacht kon worden op de misdaden die de Israelische bezetting tegenover onze
kinderen begaat."
De Palestijnse Verzetscomités in Gaza noemden de steekpartij een vanzelfsprekende reactie op Israels misdaden en vooropgezet vandalisme tegen Palestijnen en islamitische heiligdommen. In een verklaring noemden de Comités het ook een reactie op de dood van de twee Palestijnen die de afgelopen dagen werden gedood in Rahat in de Negev, Sami al-Ja'ar en Sami Zayadnah. De Verzetscomités riepen op tot een algemene opstand in ''bezet Palestina van 1948'' in solidariteit met de Palestijnse inwoners van de Negev.
Ik persoonlijk geloof niet dat de reactie van Hamas en de Verzetscomités erg verstandig is, maar het kan geen kwaad er wel eens over na te denken waar zulke reacties uit voortkomen. Verder kan het ook geen kwaad om stil te staan bij de manier waarop over dit soort zaken wordt bericht. De Israelische en ook de buitenlandse media besteden veel aandacht aan het incident. En ik breng nog maar eens in herinnering - ook al is het niet prettig het te moeten opmerken - dat als Palestijnse herders, boeren of tieners worden gemolesteerd of gedood door kolonisten of het Israelische leger, dit zelden erg uitgebreid door de Israelische kranten wordt gemeld. Laat staan door de buitenlandse media. Hebt u bijvoorbeeld in de Nederlandse pers iets gelezen over de twee doden in de
Bedoeïenenstad Rahat?
In de berichtgeving over Israel zit een vorm van discriminatie ingeweven die zo algemeen is dat het gewoon wordt gevonden.