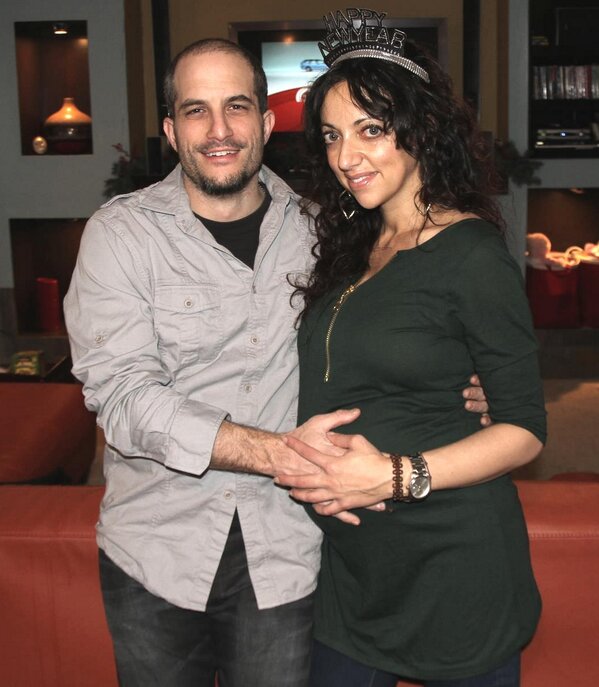 Adam Shapiro met zijn zwangere vrouw Huwaida Arraf. (Foto IMEU)
Israel heeft maandag de Amerikaans-Joodse activist Adam Shapiro
aangehouden t
oen hij met zijn acht maanden zwangere vrouw Huwaida Arraf (Palestijnse met de Israelische en Amerikaanse nationaliteit), naar Israel kwam om daar de geboorte af te wachten van hun eerste kind. De filmmaker Shapiro (41) en de advocate Arraf (37) zijn mede-oprichters van de
International Solidarity Movement
en hebben deelgenomen aan diverse acties voor de zaak van de vrede tussen Israel en de Palestijnen.
Shapiro werd na zijn aanhouding op de luchthaven Ben Gurion geconfronteerd met een papier waarbij hem tien jaar lang de toegang tot Israel is ontzegd en dat hij destijds geweigerd zou hebben te ondertekenen. Shapiro zegt dat hij nooit van het bestaan van deze verklaring heeft geweten en er deze week voor het eerst mee te zijn geconfronteerd. Maar het is zijn woord tegen dat van de staat. Shapiro is eerder gearresteerd, eenmaal in 2002 bij een demonstratie in Nablus en in 2009, toen hij met zijn vrouw op een schip naar Gaza zat dat door Israel werd geënterd. Hij werd toen uitgewezen, terwijl zijn vrouw in Israel bleef.
Shapiro heeft via zijn advocaat bewaar gemaakt, maar een rechter heeft dit afgewezen. Alleen een verzoekschrift aan het Israelische hooggerechtshof zou nog verandering in de zaak kunnen brengen, aldus deze rechter,. Maar intussen maakt Israel aanstalten Shapiro op een vliegtuig naar de VS te zetten. Hij zal op die manier de geboorte van zijn eerste kind missen, want in een brief aan haar vrienden legt Huwaida Arraf uit dat het kind in Isarel geboren moet worden, omdat dat de enige manier is om het de Israelische nationaliteit te laten krijgen:
Adam and I are expecting our first child, a boy in about 5 weeks. As joyful as this blessing is, we've had / we have to make some difficult decisions (besides what to name our son that is!) I am an Israeli citizen (in addition to a US citizen). This fact has made it possible for me to continue accessing my homeland all these years in spite of some attempts by Israel to kick me out. Israel did however deport Adam in 2002 because of our human rights work and banned him from re-entering the country (including the occupied Palestinian territory) since, which is why we've had to spend so much of our married life apart. In order for us to ensure that in the future, if Israel remains the racist, apartheid state that it is, it won't deny our son the right to visit his homeland and all his family in Palestine, we've had to think about getting Israeli citizenship for our son. However, because I'm Palestinian, and not a Jewish citizen of Israel, our child will not have the automatic right to visit the country or to claim citizenship. The only way for me to pass down my citizenship to our son is to have him in Israel.
Met de manier waarop Shapiro behandeld wordt laat Israel zich opnieuw kennen als een land dat steeds meer een thuisland voor zionistische gelijkgestemden wordt. Eerder wees het critici als Norman Finkelstein en
Noam Chomsky
uit, terwijl ook mensen die op de Westoever werkzaam zijn of daar iets ten behoeve van de Palestijnen willen doen, steeds minder welkom zijn. Zo werd bijvoorbeeld vorige week de 25-jarige Amerikaanse lerares van Palestijnse afkomst Nour Joudeh voor de tweede keer de toegang tot
Israel/Palestina ontzegd
. Joudeh was daardoor niet in staat haar werk voort te zetten aan een Palestijnse schoool in Ramallah die met Amerikaanse subsidies in stand wordt gehouden.