Mahmoud al-Koumi (l) en Hussam Salama
De twee 'terroristen'van Al-Aqsa tv van Hamas die in november door Israel werden vermoord.
Ik had nog nooit van het Newseum gehoord. Het schijnt een soort museum te zijn in Washington DC, waar journalisten die bij de uitoefening van hun functie zijn 'gesneuveld' worden geëerd met een een foto en een korte beschrijving van wie ze waren en hoe ze aan hun einde kwamen. Een mooi initiatief natuurlijk, zo blijft de vergetelheid hen bespaard.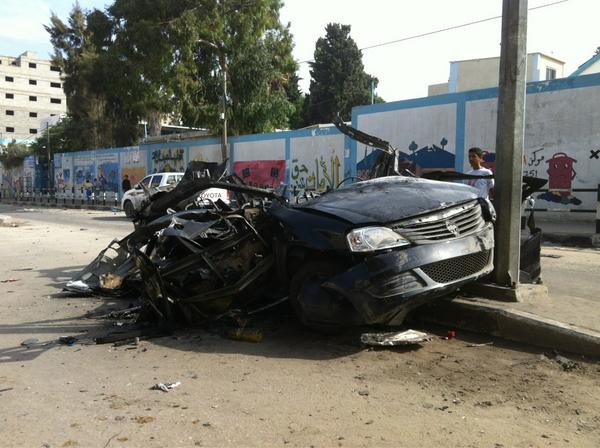 De auto waarin Koumi en Salama zaten.
Het Newseum had in zijn collectie ook Mahmoud al-Koumi en Hussam Salama opgenomen, twee journalisten van Al-Aqsa tv in Gaza die tijdens de laatste grote aanval van Israel op Gaza, Cast Lead, werden gedood met een raket op hun auto die duidelijk was gemarkeerd met het opschrift "press'' op het dak. Ze werden overigens gedood tijdens een reeks Israelische aanvallen op persbureaus en tv-ploegen, waarbij kantoren werden beschadigd en een Libanese journalist beide
benen kwijtraakte.
Maar het Newseum had de twee Aqsa-journalisten nog niet aan hun collectie toegevoegd, of er kwamen hevige protesten van de Israel-claque. Die betoogde dat de twee nooit journalist geweest konden zijn, maar terroristen waren. Al-Aqsa-tv was
immers van Hamas.
En dat zegt natuurlijk genoeg.
Nog een dag of wat hield het Newseum dapper stand, maar vandaag is het dan toch door de bocht gegaan en bezweken voor de druk. In een verklaring zegt het Newseum:
Serious questions have been raised as to whether two of the individuals included on our initial list of journalists who died covering the news this past year were truly journalists or whether they were engaged in terrorist activities.
We take the concerns raised about these two men seriously and have decided to re-evaluate their inclusion as journalists on our memorial wall pending further investigation.
Ik heb zelden zo'n laffe verklaring gelezen. ' Ernstige twijfel gerezen ... of ze wel echt journalisten waren .. of niet toch bezig waren met terroristische activiteiten.'
Alsof al-Aqsa tv eigenlijk een rakettenfabriek zou zijn. . En alsof al-Koumi en Salama hun werk om de gevolgen van Israel bombardementen te verslaan, eigenlijk alleen maar als dekmantel gebruikten om hun als camera gecamoufleerde lanceerder in te zetten.
Een eerste principe van persvrijheid is dat iedereen die werkt in de branche zijn/haar werk ongehinderd hoort te kunnen doen, ongeacht zijn/haar politieke kleur of de kleur van de organisatie die hem/haar in dienst heeft. Israel heeft dat principe met voeten getreden door Al-Koumi en Salama, jonge mannen van net 30, burgers bovendien, zonder enige reden te vermoorden. Het feit dat het Newseum is bezweken voor de morele chantage van lieden die vinden dat Israel overal wel het etiket 'terrorist' op mag plakken om vervolgens als een cowboy uit het Wilde Westen het vuur te kunnen openen, is een schande die eigenlijk het hele initiatief om omgekomen journalisten te eren, naar beneden haalt. En wat Al-Koumi en Salama betreft: als ze daar niet worden geëerd, dan toch maar hier, op de site van Abu Pessoptimist.