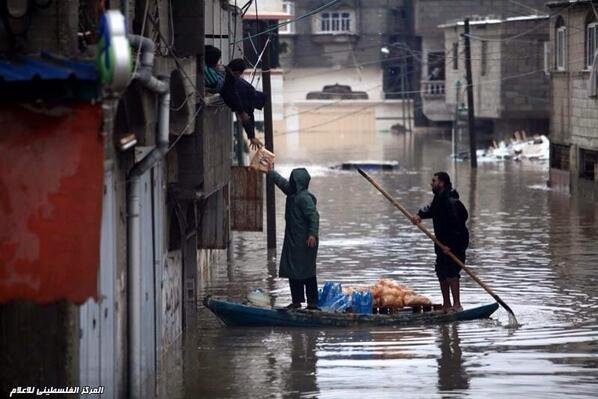 Food is distributed by boat in Gaza City.
Updated Sunday:
Heavy flooding across the Gaza Strip resulted in the displacement of approximately 10,000 people to temporary shelters and relatives' homes,
OCHA reported.
Additional thousands are expected to be evacuated from their homes in Gaza City and Khan Younis following the overflow of water pumping stations and lagoons on 14 December. The United Nations has called Gaza "a disaster area",
officials said onSaturday.
Flooding has been so severe that access to many homes is by rowing boat and water is reported to be two metres high in some places. Many people have been trapped inside inundated homes by rising waters.
The flooding is the result from torrential rains, together with waste water that was spilled earlier because of pumps that did not work because of lack of fuel. Gaza is also left without elektricity for two thirds of the day, as the Gaza power station stopped working on 1 November.
"Large swathes of northern Gaza are a disaster area with water as far as the eye can see," the United Nations Relief Works Agency (UNRWA) that administers refugee camps in the Palestinian territory, said in a statement.
At least two children died as a result of cold, Malak Al-Shaer, 2 years old and the three year old girl Lamees Fojo. The Gaza health ministry said 100 people suffered injuries in the severe weather, which damaged poorly built homes in the coastal territory, including from car accidents on flooded roads, and items falling from inundated buildings.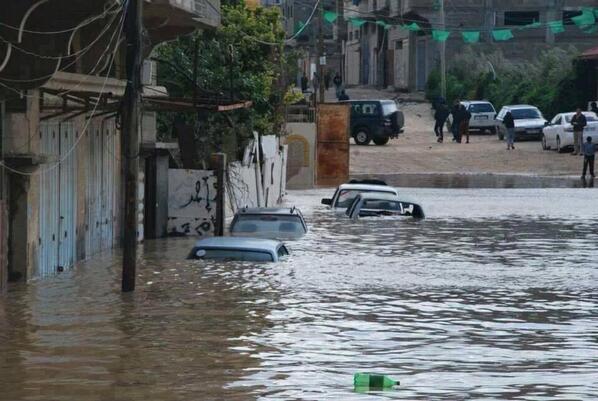 Many times the water is even higher than this: some 2 meters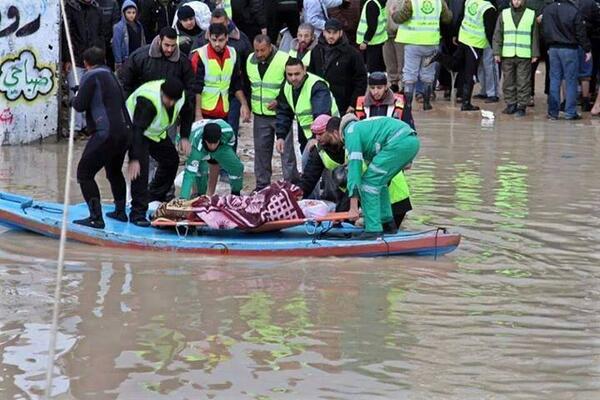 Elderly woman is evacuated.

Evacuated to a school.
And here a video: