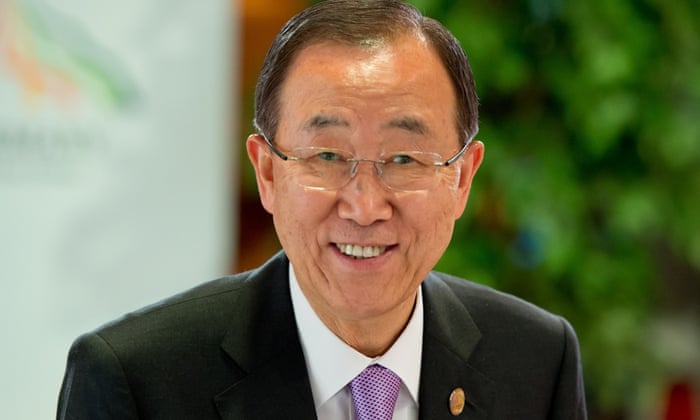 Ban Ki Moon. Did not put Israel on the list......
Military Court Watch (MCW), een NGO die gevestigd is op de Westoever, heeft woensdag een rapport gepubliceerd waarin geconcludeerd wordt dat mishandeling van Palestijnse kinderen door het Israelische leger en politie ''wijdverbreid, systematisch en inherent
aan het systeem''voorkomt.
Het rapport is overhandigd aan de Speciale Rapporteur van de Verenigde Naties aangaande Marteling en andere Wrede, Inhumane en Vernederende Behandeling en Bestraffing.
Het
rapport van 300 pagina's
bevat 200 getuigenissen van kinderen die tussen januari 2013 en mei 2015 werden gearresteerd en in detentie gehouden. De bevindingen sluiten aan bij eerdere rapporten van UNICEF dat "de mishandeling van kinderen die in contact komen met het militaire detentie systeem wijdverbreid, systematisch en inherent aan het
systeem blijken te zijn"
. Intimidatie, bedreigingen, scheldpartijen, fysiek geweld en het niet in praktijk brengen van juridische grondrechten blijken nog steeds algemeen verbreid te zijn. Deze bevindingen komen eveneens overeen met bevindingen van UNICEF dat mishandelingen tijdens arrestatie, vervoer, verhoor, en detentie niet merkbaar zijn verminderd in de jaren 2013 en 2014".
De mishandeling bestaat onder meer uit uiterst intimiderende nachtelijke arrestaties, blinddoeken, het (pijnlijk) binden van de handen met plastic handboeien, fysiek en verbaal geweld - waaronder het gedwongen aannemen van pijnlijke houdingen, of het gedwongen liggen op de vloer van een voertuig - tijdens het vervoer naar een ondervragingscentrum, terwijl de jongeren tijdens de ondervraging zelf worden onderworpen aan bedreigingen met de dood of seksueel geweld, en praktijken als het onthouden van slaap, het vastgebonden zijn in pijnlijke houdingen of het onthouden van de mogelijkheid naar de wc te gaan. Dat alles gebeurt met de bedoeling de jongeren tot bekentenissen te dwingen. De meesten bekennen ook, omdat dat de enige manier is om aan de slechte behandeling een einde te maken. Ze worden dan gedwongen een papier in het Hebreeuws te tekenen dat ongeveer niemand van hen kan lezen of begrijpen. Al deze praktijken vinden plaats buiten de aanwezigheid van advocaten of oudere familieleden (wat wettelijke wel verplicht is).
MCW heeft geschat, op basis van statistieken die het verkreeg via de Israelische militaire autoriteiten en de VN, dat sinds de Westoever 48 jaar geleden werd onderworpen aan de speciale wetgeving van de militaire bezetter, ongeveer 95,000 kinderen zijn opgepakt, van wie er een 50.000-tal zijn onderworpen aan vormen van fysiek geweld.
MCW trekt in het rapport ook de conclusie - ondersteund door bewijzen - dat er deze systematische vormen van mishandeling gerelateerd zijn aan de vestiging en handhaving van Israelische nederzettingen op de Westoever. In het rapport concludeert MCW dat om 370.000 Israeli's in strijd met de internationale wetten te laten wonen op de Westoever zonder dat ze in moeilijkheden komen, een massaal systeem van intimidatie en collectieve bestraffing nodig is.
De meeste kinderen werden ook opgepakt in gebieden dichtbij nederzettingen of wegen naar de nederzettingen, die vaak een doelwit zijn van kinderen die stenen gooien.
Het rapport van MCW komt slechts een paar dagen nadat de secretaris-generaal van de Verenigde Naties, Ban Ki Moon, vermoedelijk vooral onder druk van de Verenigd Staten, besloot Israel niet op de lijst te zetten van landen waar in gewapende conflicten de rechten van kinderen worden geschonden. Ban Ki Moon ging daarbij in tegen de aanbeveling van zijn eigen
Speciale Vertegenwoordiger voor Kinderen in Conflictgebieden
Leila Zerrougui
en diverse mensenrechtenorganisaties.
Ban's beslissing geeft aan dat de positie van secretaris-generaal van de Verenigd Naties helaas een totaal door de VS gedomineerde functie is, als we in aanmerking nemen dat in het rapport van Zerrougui wordt vastgesteld dat in 2014 meer kinderen in Gaza en de Westoever werden gedood dan in de conflicten in Syrië of Darfour, namelijk 557. Met dat getal komt het Israelische leger op de derde plaats als kindermoordenaar, na Irak en Afghanistan: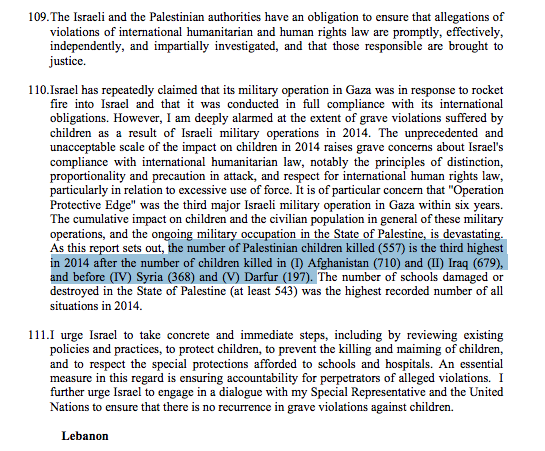 Brad Parker, advocaat en een pr-expert van
Defence for Children International-Palestine
(DCI-Palestine), noemde het betreurenswaardig dat Israel niet op de lijst van landen was gezet die kinderrechten schenden, de zogenoemde ''Lijst van de schande''. Parker zei tegen de Electronic Intifada dat Ban Ki Moon de Israeli's daarmee in feite een vrijbrief gaf om op de ingeslagen weg van het begaan van grove schendingen
van kinderrechten door te gaan
. Ook Human Rights Watch had een
beroep op Ban gedaan
om Israel (en trouwens ook Hamas) op de lijst van de schande te zetten. Tevergeefs dus, Israel komt er weer mee weg.