Four bodies, belonging to members of one family in the morgue in Khan Younis. (AFP/Getty)
Updated 00.30 hrs
Israeli airstrikes across the besieged Gaza Strip killed at least 33 Palestinians overnight Wednesday and Thursday, including
a family of eight.
The death toll since Monday stands at 90, according to the Gaza Ministry of Health, (99 if we count from Sunday). There are 550 + wounded. It is possible that some cases were missed. At some point during attacks of this kind there always is a moment of confusion about the excact numbers.
Prime Minister Netanyahu told members of the Knesset Foreign Affairs and Defense Committee that a ceasefire is currently
not on the agenda.
At a security briefing, Netanyahu said attacks on Hamas would be escalated, and that the operation "will expand and continue until the fire on our communities is over and the quiet
is back."
The latest Palestinian to die, Abdullah Abu Majrouq, from al-Qassam Brigades, was killed in airstrike on his motorbike in
Deir al-Balah
. An eight-year-old boy, Abdul Rahman Khattab, was killed after an Israeli airstrike on his home in al-Hakar area in Deir al-Balah..
In the northern Gaza strip a missile fired into a car killed three men, Mahmoud Waloud and Hazim Balousha ane a third unidentified man. One man was shot dead while riding a motorcycle south of Gaza City and another man Ahmed Zaher Hamdan died from his injuries after Israel targeted a group of men in Jabaliya.
A four-year-old baby girl, Yasmin Muhammad al-Mutawwaq, succumbed to wounds sustained in an Israeli airstrike on Khan Younis overnight. Ismail Abu Jami, 19, was killed in a strike on Khan Younis and Abdullah Ramadan Abu Ghazal (5), was killed in an Israeli airstrike on Beit Lahiya, Gaza health ministry spokesman Ashraf al-Qidra said.
Earlier, an airstrike hit a car in al-Nafaq street in Gaza City, killing three and injuring four. The killed were Bahaa Abu al-Leil (35) Wisam Qandil and Amir al-Fayoumi . They were fighters with the al-Quds Brigades., the Islamic Jihad confirmed.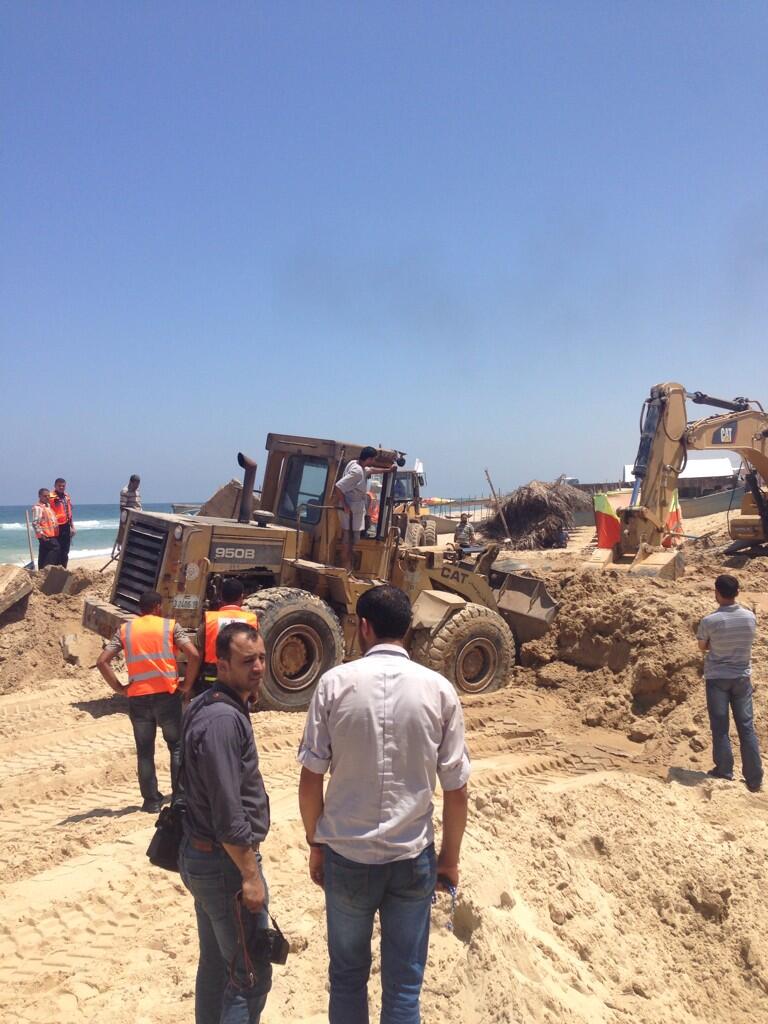 Bulldozers dig at the place where the Khan Younis Funtime Beach café used to be. They look for a boy who is still missing. A missile killed eight people at this place who were watching the match Holland-Argentina (Photo via Twitter).
Early Thursday, Israeli warplanes targeted a building in Khan Younis, killing eight members of the al-Hajj family, most of them children. Over 30 people were injured. Al-Qidra said that Israeli forces bombed the building without a warning or asking them to evacuate. Tariq al-Hajj, Najla al-Hajj, Aminah al-Hajj, Saad al-Hajj, Omar al-Hajj, Aminah al-Hajj, and Basimah al-Hajj (57) were named as the victims.
Earlier, nine Palestinians were killed and at least 10 injured when Israel targeted Waqt al-Marah coffee shop on a Khan Younis beach. Locals said dozens of people were watching the World Cup semi-final game when Israel fired a missile at the crowd. Muhammad Khalid Qannan, his brother Ibrahim, Hamdi Kamil Sawali, Suleiman al-Astal, Ahmad al-Astal, Mousa al-Astal and Muhammad al-Aqqad were identified as some of the victims.
Another airstrike in the al-Zawayda village in central Gaza killed four members of the Shalat family, a couple and two children. Late Wednesday, an Israeli airstrike killed Hamdi Shihab, who worked as a driver for local news agency Media 24. The car had 'TV' clearly marked in red paint on the bonnet of the vehicle.
Haaretz reports
that the Israeli army has launched over 860 strikes in the Strip since the operation began, 60 on Thursday morning alone. More than 800 tons of explosives have been dropped on Gaza in three days. More than 350 rockets and mortar shells have been fired from Gaza at Israel since Tuesday. Since Tuesday, the Iron Dome missile defense system shot down over 70 rockets aimed at Israeli cities and towns.Long-range rockets were fired at Tel Aviv twice on Thursday morning, with at least one interception confirmed by the army. Rockets later hit the Jerusalem area, and a rocket barrage was fired across southern and central Israel. Amidst a rocket volley fired at Ashdod in southern Israel two rockets hit populated areas. At one site, a rocket hits a parking lot, and starts a fire. Vehicles are badly damaged by the blaze. In another site, a rocket hits a two-storey house. One soldier was moderately wounded in the morning by mortar in Eshkol Regional Council, another lightly wounded.
Since start of operation Protective Edge, Magen David Adom Emergency Services says it has treated 123 wounded people: 1 seriously; 2 lightly to moderately; 19 lightly; and 101 people suffering from shock.
Egyptian authorities opened the Rafah crossing with the Gaza Strip early Thursday to allow hundreds of Palestinians injured during the ongoing Israeli offensive to receive
medical treatment.